I know, I know, I know!!! This blog is a couple weeks late, but you know what?! SCREW OFF!! I just feel lazy to blog!! No wonder the old blog sites of mine were duds! HAHA :] I've been stuck on watching GLEE episodes over & over & taking care of my new puppy, Chase (that's going to be another blog :]).
So, on to the blog topic!!!
Over the past year & few months, I've accumulated a "collection" of makeup, hair & body products! So here are SOME of my favorites. I didn't put a number, b/c I can't just choose a certain amount. LOL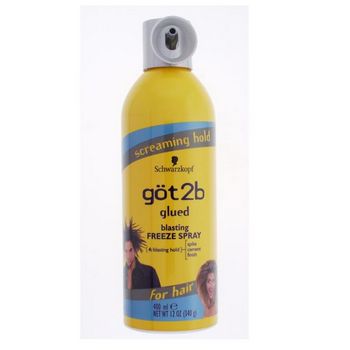 got2b glued Blasting Freeze Spray
- OH EM GEE!! I love this product!! I used to use it a LOOOONG time ago when I had short spikey hair (Shocking.. I KNOW!!) But this stuff... Works all day AND all night!! It's glue for your hair!! When I do my faux hawk, I use this to hold my pompador & my "bird's nest" pony tail. Whenever I do my pompador, my niece, Nevaeh, always asks me, "Auntie!!! Are you using my mom's Bump-It?" LOL! I respond, "I don't need a Bump-It to get my hair like this." You can buy this at Wal-Mart, Target, & stores alike for $6-$8.
MAC Mulch E/S
- I've had this for YEARS!!! And it's still my ULTIMATE favorite MAC e/s. If you DON'T have it, it's a reddish-brown w/ bronze pearl shade. A velvet shadow. I use it for my everyday smokey eye look :] $14.50 at MAC stores/counters & online :]
Fantasia IC Hair Polisher Heat Protectant
- I'd have to say "Thank You" To Sheena for recommending this product. I bought it back in October at Sally Beauty Supply. It's about $8 & you get 6oz for it. It's a lot cheaper than Chi, Biosilk, etc, and it does it's job! It protects your hair, & detangles your hair. A little goes a long way for this product!! I've only used about 1/6 of this product even after having for 3-4 months!! If you use a lot of it, your hair gets greasy. I swear by it now. LOL
MAC Bare Canvas Paint
- So, before I actually got my hands on MAC's Pinterly PaintPot, I was using Bare Canvas Paint as a base. I loved the texture of the paint better than any other primer I've used before (concealers, UDPP, etc.) for my oily lids (I've used this for YEARS!). I ran out of this product, so that's why I went on using Painterly. $16.50 at your local MAC Stores/counters & online.
Zoe Black & White Dots 1 in. Flat Iron -
I got this on Black Friday 2009. Yeah, I haven't had it THAT long, but I've been wanting a flat iron for the LONGEST time. Mine broke earlier this past year & I've been borrowing my sister's until I bought one of my own. It does its job, which is to straighten & add shine. So, no complaints there. I just wanted one of my own so I can straighten & add curls to my hair whenever. It heats up quickly, has tourmaline ceramic plates to seal the moisture in & adds shine, 9-foot swivel cord, and a thermal pouch (which is great for travelling!!) The downside of this flat iron... there's no heat settings. It heats up to 410 degree max!!
So, purchase the Fantasia IC Hair Polisher Heat Protectant ;] I got mine at ULTA for $29.99.
Splash Energizing Shower Gel
- So, I used to be an associate for the health science company, Usana Health Sciences. Things didn't work out so well there, so I moved on. But there are a few products in their hair & body line, , that I LOVE. The one that is my favorite is the shower gel. The first time I used it, it took me a while in the shower b/c I thought there was still shower gel on me. NOPE! It just left my skin feeling smooth. I replaced my shaving cream for this shower gel, and when you put the Firming Body Nourisher on your body after shaving w/ the shower gel. OMG!!! AH-MAZE-ING!!!! $15.00 from Usana.com.
Aquafina Trio Flavorsplash Lip Balm w/ Bonus Lip Balm
- I used to be such a CARMEX only person... until I found this. They work like SoftLips, but BETTER!! It leaves your lips smooth, moisturized & has a lil minty feeling to them. Because of that lil jolt of mint, it kind of plumps up your lips (not that I need lip plumping). But it comes w/ three amazing flavors: Citrus Blend, Wild Berry, and Raspberry & an extra one that didn't have a "flavor", it was just minty. I can only find them at Wal-Mart for about $4-$5 [It's worth it!!!]
Daiso Japan False Eyelashes
- So there's this store in the next city over called Daiso Japan. It's like an Asian Wal-mart, if you will. I found eyelashes there for I think $1.50 or $2.50, I'm not quite sure. I've been wearing them since August. Though there are some that are natural feeling, there are the "dramatic" looking ones that are made of polyester. Yes, they do feel heavier on the lids, but they look better & make your lashes look fuller. If you can find yourself a Daiso Japan near you, I recommend going there for getting affordable beauty products. But I must warn you, you get what you pay for!
If you've tried any of these products, how do you like them? Post a comment below! I'd love to read about your opinions on these products, as well!!
*FTC DISCLAIMER: All products reviewed are my OWN & HONEST opinions. I'm not affiliated with nor am I being compensated by the companies mentioned.*